First version publishes the work 🙂 Online TV (without advertisements and waste)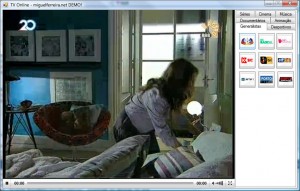 It is still in testing, and so this version works only during 2 weeks. I will continue to improve and try to add more channels.
You can download the setup here or here , are 1 MB. To run you need to have the dotNET FrameWork 2.0 installed (all Windows vista or higher) and the flash player for IE.
I appreciate comments and suggestions for improving the program and, donations are also useful…