As we all television, We often bombarded with advertisements on the Air Wick, an auto Fragrance Diffuser….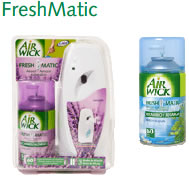 I will explain how to save some cash, because each original recharge costs about € 4 (at best).
Many have already noticed that there are some Chinese stores refills closely resembling, but don't work on all these devices, because the most current tell if intelligent and just support original refills, What should not yet have noticed is that the intelligence of this is nothing but a small light sensor which reflects on top of refilling:
As you can see, the sensor reflects on two black lists… and I wonder I: This is what makes the cost more than doubled and the system be ' smart '?
Just buy (as I did) a diffuser in promotion (about 5 euros) and then never put to waste the tip of recharge and, go shopping in Chinese refills and less than half the price.
For the older diffusers do not need to change the tip, they are compatible 🙂
In relation to the size, Note that refills the times are some tenths of a millimeter larger or smaller, but with a way can fit well.
I hope you enjoyed this tip to save some euros in times of crisis.